April 24, 2019
Le 6e forum scientifique des cycles supérieurs en criminologie est une occasion en or pour les étudiant(e) de 2e ou 3e cycle en criminologie ou dans un domaine connexe encadré(e) par un(e) chercheur(e) du CICC ou d'un professeur de l'école de criminologie de l'Université de Montréal de présenter leur thématique de recherche, sous forme d'affiche, devant des chercheurs et des professionnels des milieux de pratique.
Inscription au Forum et à la soirée du 50e du CICC
avant le 15 avril: soiree50cicc.eventbrite.ca
April 24, 2019 - 16:00 to 22:00
Le CICC célèbre, en cette année 2019, un demi-siècle d'existence. Il s'agit d'une belle occasion pour souligner l'engagement de nos chercheurs, collaborateurs, partenaires des milieux de pratique et partenaires institutionnels dans le développement et le rayonnement du CICC au Québec, au Canada et au-delà de nos frontières.
Inscription à la soirée du 50e du CICC
avant le 15 avril: soiree50cicc.eventbrite.ca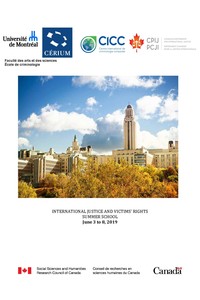 June 27 – 28, 2019
INW is a group of scholars and analysts from across the world that shares a research interest in the use of network analysis in furthering the understanding of the activities of individuals, groups and organisations engaged in organised crime, gangs, transnational crime, terrorism, and corruption issues. While some members draw heavily on social network analysis, others rely on other methods (e.g., ethnography) for studying illicit networks.