Scientific activities in video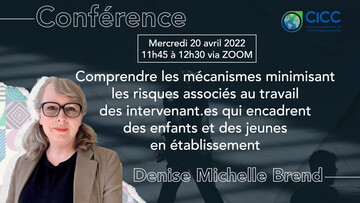 April 20, 2022

Comprendre les mécanismes minimisant les risques associés au travail des intervenant.es qui encadrent des enfants et des jeunes en établissement
Conférence de Denise Michelle Brend, professeure adjointe à l'Université Laval.
March 15, 2022

How Paramedics and Firefighters Perceive their Role in Dealing with Drug Use and People Who Use Drugs (PWUD)
Conférence of Katharina Maier, Assistant Professor of Criminal Justice at the University of Winnipeg.
Attention - Votre version d'Internet Explorer est vieille de 17 ans et peut ne pas vous offrir une expérience optimale sur le site du CICC. Veuillez mettre à jour votre ordinateur pour une expérience optimale. Nous vous recommandons Firefox ou Chrome, ou encore ChromeFrame si vous êtes dans un environnement corporatif ou académique dans lequel vous ne pouvez pas mettre à jour Internet Explorer.