ICCC Associated Research Entities
The International Centre for Comparative Criminology is directly or indirectly associated with a network and several research chairs, and laboratories. Led by our researchers, these infrastructures have a presence in several universities across Quebec, including the Université de Montréal, Université du Québec à Trois-Rivières, HEC Montréal, and Université Laval.
Here is a brief description of the main research entities:
Canada Research Chair in Cybersecurity

Since 2016, Benoît Dupont has been the chairholder of the Canada Research Chair in Cybersecurity (Tier 1), a chair with a duration of 7 years (2016-2023).
The purpose of this chair is to facilitate the emergence of an integrated field of study on cybersecurity by developing transdisciplinary, empirical and theoretical knowledge on the governance and regulation of digital risks. At the crossroads of criminology, computing, and regulation studies, the chair will develop tools to help compare a wide range of cybersecurity practices and policies implemented on a national and international level. Any knowledge acquired will help strengthen the resiliency of the digital ecosystem.
From 2006 to 2016, Benoît Dupont was the chairholder of the Canada Research Chair in Security and Technology (2006-2011; 2011-2016) where he concentrated his efforts on better identifying the main changes that affect public and private security.
---
Chaire de recherche UQTR-ENPQ - Prévention de la santé psychologique au travail en sécurité publique

Annie Gendron et Andrée-Ann Deschênes sont co-titulaires de cette Chaire. Afin d'optimiser la prévention auprès des policiers et policières, la Chaire de recherche concentrera ses efforts à développer des connaissances scientifiques et à identifier les meilleures méthodes de prévention en santé psychologique au travail en vue de soutenir ces personnes et leur organisation.
---
Canada Research Chair in Economics
Chairholder : Decio Coviello

The goal of this chair (2016-2026) is to develop an innovative research program that quantifies the impact of government provision of public goods on policy-relevant economic outcomes. More specifically, this research will study big data from Italy, Quebec, and the United Kingdom to quantify the impact of government provision of public goods on economic factors associated with long-term economic development.
The chair, with financial support from the Canada Foundation for Innovation, the John R. Evans Leaders Fund, and the Quebec government, will create the Public Goods Lab. The goal of the lab is to provide extensive data extraction from unique administrative records and a computationally intensive micro-econometrics analysis of big data.
---
Research Chair in Cybercrime Prevention

Chairholder : Benoit Dupont
This philanthropic chair, held by Benoît Dupont (professor at the Université de Montréal's École de criminologie, ICCC researcher, and cybersecurity specialist), seeks to help prevent internet fraud by raising awareness and providing better tools in the field of cybersecurity, in order to enable people to better protect themselves. In addition, this chair also seeks to help turn Montreal and Quebec into a talent hub for this field.

Funded by two banking organizations, namely the Desjardins Group and the National Bank, and endowed with $1 million in funding over five years (2018-2023), this Chair was inaugurated on November 7, 2018, at the Université de Montréal.
---
Research Chair in Social Reintegration of Offenders

Chairholder : Elsa Euvrard
Elsa Euvrard is the holder of this Chair (2018-2025), created in 2018 through a partnership between the Université Laval, the Ministère de la Sécurité Publique, and the Ministère de la Justice du Québec. Many concerns are at the root of this Chair, namely the need to both take into account the living situations for the most vulnerable individuals in the justice system, and to develop knowledge and practices in the field of social reintegration, with an eye towards establishing a more just and inclusive society. The Chair was also established to help create a broad partnership between the institutional and academic fields, and to build bridges between the various actors in the judicial, correctional, and community chain.


---
William Dawson Scholar (McGill University)

Marie Manikis began, on May 1, 2019, a five-year term as a William Dawson Scholar. Granted by McGill University, this award acknowledges individuals who are developing into outstanding and original researchers of world-class caliber, poised to become leaders in their fields. (2019-2024, 125,000$)
---
Chaire de recherche UQTR (Junior) en forensique numérique

Maxime Bérubé est titulaire de la Chaire de recherche UQTR (Junior) en forensique numérique pour une durée de 3 ans (2022-2025), avec un financement s'élevant à 25 000$ par an.
La Chaire de recherche UQTR en forensique numérique a pour mandat principal de développer et de diffuser des connaissances inédites sur l'identification, l'exploitation et l'interprétation des traces numériques en science forensique.
---
INFRASTRUCTURES
Programme (RÉ)SO 16-35 : Saisir et soutenir les processus de (ré)intégration sociocommunautaire chez les jeunes judiciarisés de 16 à 35 ans
This program, of which Natacha Brunelle is the Scientific Director, is funded by SSHRC's Partnership Grants program ($2,454,113, 2018-2025).

Consisting of six interlocking research projects conducted jointly by 22 partner institutions in three regions of Quebec, and 14 researchers from five universities, this program has the following objectives: 1) Describe the trajectories of both desistance from delinquency, and socio-community (re)integration, for young people in the justice system; 2) Analyze the collaborative links between the various actors involved in both desistance from delinquency, and socio-community (re)integration of young people in the justice system; 3) Develop intersectoral action strategies to promote desistance from delinquency and socio-community (re)integration of young people in the justice system; and 4) Design, implement, and evaluate the implementation of an intersectoral pilot project to meet the needs of young people in the justice system as part of their desistance and socio-community (re)integration.

In addition to Natacha Brunelle, this research program, which includes six other ICCC researchers, namely Serge Brochu, Isabelle F. Dufour, Sylvie Hamel, Carlo Morselli, Chantal Plourde, and Mathilde Turcotte, aims to contribute towards establishing a safer and more inclusive society.

Contact email: reso1635@uqtr.ca
---
Observatoire en justice et santé mentale

Directed by Anne Crocker, this interuniversity, interdisciplinary and intersectoral observatory for research in justice and mental health, attached to the Institut national de psychiatrie légale Philippe-Pinel, aims to bring together researchers and partners from across Quebec in the areas of health, social services, law, public security, community, advocacy and family representatives to deepen knowledge, inform and improve intersectoral practices at the interface of mental health, justice and public safety.
Its mission is to 1) support the prevention of the criminalization and criminalization of people with cognitive or mental health problems; 2) facilitate the emergence of service use trajectories better adapted to the needs and rights of vulnerable people with legal issues; and 3) ensure the consistency and monitoring of interventions, integration, reintegration or reintegration of people in the community and in their communities.
To learn more (French website)
---
Observatoire des profilages
(english version to come)

Cet observatoire, dont Céline Bellot est directrice, bénéficie d'une subvention de partenariat du CRSH (2020-2027; 2 495 140$).
L'Observatoire des profilages (ODP), composé de 37 chercheurs et de 19 partenaires terrain, a été construit comme une communauté d'apprentissage stratégique. Assurant une veille et une vigilance, il vise à développer de nouvelles connaissances sur les pratiques et les expériences de profilages, à développer des plaidoyers pour soutenir des changements dans les politiques et les pratiques institutionnelles qui permettraient d'y mettre fin.
Son originalité tient en premier lieu à sa démarche globale et systémique, mutisectorielle, intersectionnelle dans la compréhension des profilages. Elle repose aussi sur une approche interdisciplinaire et appliquée dans la définition, la mise en oeuvre et le soutien à la prise de décision pour y mettre fin. Enfin, l'ODP se distingue par sa structure partenariale organisée en une communauté d'apprentissage stratégique qui permet une circulation des savoirs, des savoirs faire et des savoirs communiquer.
---
Darknet and Anonymity Research Centre (DARC) (Université de Montréal)
Funded by the Canada Foundation for Innovation (CFI) and led by our researcher David Décary-Hétu, the Darknet and Anonymous Research Center (DARC) is a research infrastructure that helps to understand and explain the impact of anonymity technologies on the phenomenon of crime in Canada in general, and more specifically on the activities of illicit online markets. This infrastructure is now required to open new research projects on delinquent activities online. These activities, which recently generated a large amount of traces, are becoming increasingly obscure due to the adoption by criminals of anonymity technologies such as encryption and virtual currencies. DARC has 8 state-of-the-art workstations and a large number of virtualized servers that host the center's massive data collection tools (DATACRYPTO) and bitcoin flow analysis (BITCLUSTER).
---
Legal Clinic for Victims of Crime (UdeM)
Titulaires : Jo-Anne Wemmers, Amissi Manirabona

Funded by the Victims Fund of the Department of Justice Canada, the mission of the Legal Clinic for Victims of Crime (CJVAC) is to empower victims and train future actors in the justice system on the needs, expectations and rights of its victims. A first in Canada, the CJVAC combines the training of law and criminology students as well as service to the community.

The purpose of this clinic is to inform victims about their rights and available services in accordance with their needs. This information will help them make informed decisions. Victims and their relatives who consult the CJVAC meet with a criminology student who takes note of their needs and legal information is given by law students. Together, the students provide victims with informational support, particularly regarding the criminal process, legal terminology, judicial procedure and the rights of victims. The CJVAC has been welcoming victims and their loved ones since September 1st, 2021.
---
Clinique de cyber-criminologie (UdeM)
(English version to come)
Titulaire : Benoît Dupont

Fondée par Benoît Dupont, Fyscillia Ream (doctorante à l'École de Criminologie de l'Université de Montréal) et Akim Laniel-Lanani, la Clinique de cyber-criminologie a pour mission de soutenir et d'outiller les victimes de cybercriminalité et d'améliorer la coordination entre les différentes ressources et organisations de sensibilisation et d'aide aux victimes. La Clinique a pour objectif de devenir un chef de file en matière de soutien et d'informations pour les victimes de cybercrimes au Québec.
Constituée d'un regroupement d'étudiants bénévoles en criminologie de l'Université de Montréal, la Clinique de cyber-criminologie développe des outils en ligne accessibles au plus grand nombre de victime afin de mieux les soutenir et de les aider à améliorer leur gestion de la confidentialité et leur résilience numérique.
---
Groupe de recherche sur les agresseurs sexuels (GRAS)
(English version to come)

Le Groupe de recherche sur les agresseurs sexuels (GRAS), subventionné par le FQRSC - Soutien aux équipes de recherche (demande en renouvellement), est dirigé par Jean Proulx et est composé de 9 chercheurs du CICC.
Cette équipe a étendu ses activités de collaboration avec les milieux d'intervention dans le champ de l'agression sexuelle.
---
Équipe de Recherche sur la Délinquance en Réseau
(English version to come)

Samuel Tanner est le directeur de cette équipe subventionnée par le programme FRQSC - Soutien aux équipes de recherche et qui rassemble 8 chercheurs du CICC.
S'inscrivant dans une perspective d'adaptation réciproque des délinquants et des organisations policières, l'Équipe de recherche sur la délinquance en réseau (ERDR) entend étudier les processus par lesquels le crime a évolué vers un phénomène de réseau et, en réaction, comment les organisations d'application de la loi et de sécurité s'avère aujourd'hui plus que jamais orientées vers ce mode de réseautage. C'est sur cette interaction entendue comme dualité crime-sécurité, concept que porte le cœur de notre programme de recherche programme de recherche.
---
Human-Centric Cybersecurity Partnership (HC2P)
This program, of which Benoît Dupont is the holder, is funded by SSHRC's Partnership Grants program (2021-2026; 2 494 323$).

The Human-Centric Cybersecurity Partnership (HC2P) leverages a transdisciplinary group of scholars, government, industry and not-for-profit partners to generate research and mobilize knowledge that will help create a safer, more secure, more democratic and more inclusive digital society.
---
The Technologies of Security and Mobility Observatory

Le contrôle de la mobilité à l'ère du numérique : la sécurisation quotidienne des mobilités humaines, financières et des données est un partenariat de recherche dirigé par David Grondin. Il a pour objectif d'examiner comment les tensions entre les demandes concurrentes en sécurité et en mobilité sont négociées par le choix et l'utilisation de technologies de contrôle de la mobilité.

Plus de détails
---
LABORATORIES
Cybersecurity Lab (UdeM)
Thanks to a CFI grant awarded to our researcher Benoit Dupont, the ICCC is now equipped with a cybersecurity lab capable of accommodating 10 research assistants, as well as a programmer analyst and a research professional. The lab also boasts specialized software and servers that can be used for both advanced research and data sharing.
---
Laboratoire de Recherche sur la Technologie, l'Activisme et la Sécurité (LarTAS)

Dirigé par Samuel Tanner, le laboratoire de recherche sur la Technologie, l'Activisme et la Sécurité – LarTAS – est né à l'automne 2020 de la volonté de créer un réseau de recherche et de réflexion, tant sur les plans local, national qu'international, de chercheuses et chercheurs en émergence et seniors et dont les travaux portent sur les relations entre technologie, activisme et sécurité. Le laboratoire vise aussi à favoriser l'intégration de chercheurs et chercheuses en devenir avec le milieu et le monde académique et de la recherche.
David Grondin est également affilié au laboratoire.
---
Public Goods Lab (HEC Montréal)
Under the direction of our researcher Decio Coviello, this lab, along with its cutting-edge technology, allows experts to build advanced economic models that can quantify how the reduction of public goods services impacts the economy. The lab gathers crucial data by analyzing political changes that have occurred in Quebec and Italy during the past fifteen years. Once the model is built, we will be able to anticipate the effects of future public goods policies.
---
Laboratory of Advanced Spectroscopic Techniques for Trace Analysis (UQTR)
This laboratory, equipped with a Raman spectrometer, thanks to a grant from the Canadian Foundation for Innovation obtained by Cyril Muehlethaler, allows the development of advanced spectroscopic techniques for the detection of traces in forensic science. It is particularly useful for Cyril Muehlethaler's programming research, especially in SERS (Surface-Enhanced Raman Spectroscopy).


---
Laboratoire TRACES (UQTR)
(English version to come)

Le projet TRACES consiste en la création d'un laboratoire pour l'extraction de l'ADN à partir de tout type de traces et restes biologiques, modernes et anciens. Emmanuel Milot en est le responsable.
Ce projet découle d'une volonté de doter l'UQTR d'une infrastructure de pointe pour les recherches en génétique forensique, avec un effet structurant pour la criminalistique, la thanatologie et d'autres disciplines. En effet, l'UQTR a récemment (2018) investi ~2M $ pour construire une salle blanche dans le pavillon Pierre-Boucher, qui permet de contrôler la quantité de microparticules dans l'air. Il a été décidé en 2019 de dédier cette salle aux manipulations très délicates sur l'ADN provenant de traces.
---
Groupe de Recherche en Science Forensique (UQTR)
La recherche du Groupe de Recherche en Science Forensique (GRSF) ambitionne de participer à la lutte scientifique contre les atteintes aux personnes et aux biens par l'analyse des traces physiques, biologiques, chimiques et numériques, résidus d'activités illicites. La figure ci-contre, décompose la mise en oeuvre de cet objectif politique du GRSF aux niveaux stratégique et opératif, dans lesquels s'inscrivent les projets de recherche menés par les chercheurs.
Six chercheurs du CICC, tous rattachés au Département de chimie, biochimie et physique à l'UQTR, y participent à titre de chercheurs réguliers, soit Frank Crispino, Emmanuel Milot, André Lajeunesse, Shari Forbes, Maxime Bérubé et Cyril Muehlethaler.
Crime Scene Lab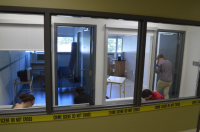 Intended to offer a review of everything learned during an undergraduate degree, the Crime Scene Lab has both a wet room (meant to simulate a kitchen, bathroom, etc.) and an adjoining dry room (den, bedroom, or living room), which can be either connected to or separated from each other though a common corridor.




Forensic Photography Lab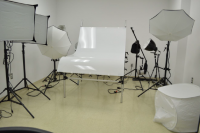 This lab is a professional photography studio reserved for reproducing photos of items and traces presented for analysis. It has a bottomless table, a light table, two lightboxes, four professional 1100W flashes, each powered by two power packs, four 6500K lights, two Lumahawks (continuous 1200W at 6500K), reflectors, and deflectors.




Luminescence Lab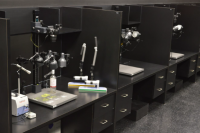 This dark lab with 12 fully equipped workstations (photographic columns, still cameras, monochromatic lamps, excitation and emission filters) allows users to record raw and revealed traces using optical techniques based on selective absorption and luminescence (fingerprints, footwear traces, tool marks, contaminants, etc.).




Forensic Chemistry Lab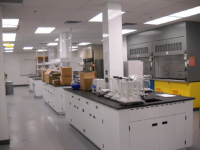 This lab has been designed for the examination of various forms of physical, chemical, and biological traces that students and researchers will encounter. It is safe and equipped with all the supplies an organic chemist requires (lab glassware, balances, ultrasonic cleaners, shakers, fume hoods, ovens, etc.), including two cyanoacrylate fuming tanks, a vacuum fuming tank (donation from the provincial police force), and a microtome.




Optical Forensic Lab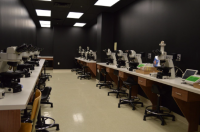 This lab has been designed to observe and analyze samples (fibres, soil, glass, paint chips) through different levels of magnification, and their comparative identification by polarization microscopy. Data can be recorded on a dedicated system thanks to a set of cameras and focal tubes and professional camera equipment. The lab also has a microtome, 11 stereo microscopes, and 12 optic microscopes.



Forensic Analysis Lab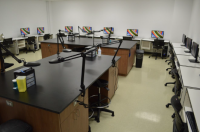 In the concept of a specific training for forensics, lab 3132 is the place where evidence is submitted and students perform their first observations and analyzes to determine the appropriate analytical strategy for the inquiry. It is also where testing is completed by consulting the analytical data for the profile's requirements and the drafting of various reports.