Mille homicides en Afrique de l'Ouest
Burkina Faso, Côte d'Ivoire, Niger et Sénégal
The English version of this site only contains a few pages.
Please switch to the French version to view this page by clicking this link:
Français
PDF
Visit Maurice Cusson's page.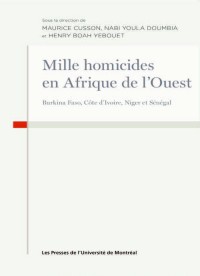 Cusson, M., Youla Doumbia, N. et Yebouet, H. (Dir., 2017). Mille homicides en Afrique de l'Ouest. Burkina Faso, Côte d'Ivoire, Niger et Sénégal. Montréal : Presses de l'Université de Montréal (collection Jean-Paul Brodeur) (352 pages).
Back