Prácticas eficaces en materia de reducción de la reincidencia y de la reinserción social de los reclusos, en particular desde la perspectiva del trabajo remunerado
The English version of this site only contains a few pages.
Please switch to the French version to view this page by clicking this link:
Français
Visit Jean-Pierre Guay's page.
Visit Denis Lafortune's page.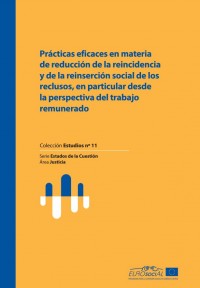 Lafortune, D., Guay, J.P., Jourdain, G., Turcotte, M.E. et Picard-Roy, G. (2014). Prácticas eficaces en materia de reducción de la reincidencia y de la reinserción social de los reclusos, en particular desde la perspectiva del trabajo remunerado. Estudio 11, Serie: Estados de la Cuestión, Área: Justicia. Madrid : Programa EUROsociAL. www
Back